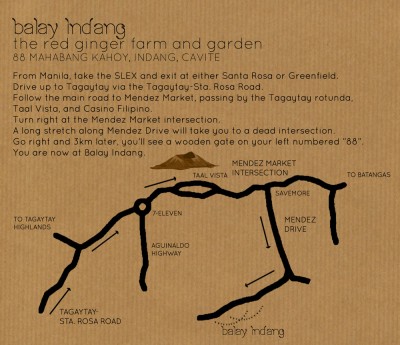 Balay Indang is a bed & breakfast inn located in Indang, Cavite. It is roughly 15 minutes away from the national highway (Tagaytay main road), reached via the town of Mendez.
And this is the place for our special day. 🙂
To get there, you may refer to the inlay map we've included in our invitations. We're also posting the driving instructions below:
From Manila, take the SLEX and exit at either Santa Rosa or Greenfield.
Drive up to Tagaytay via the Tagaytay-Sta. Rosa Road.
Follow the main road to Mendez Market, passing by the Tagaytay rotunda, Taal Vista, and Casino Filipino.
Turn right at the Mendez Market intersection.
A long stretch along Mendez Drive will take you to a dead intersection.
Go right and 3km later, you'll see a wooden gate on your left numbered "88".
You are now at Balay Indang.
The inlay map illustration is not cartographically exact, but it best describes the route you'll be taking. For a more correct version, you can use this (or download it in 5500×5500 px full size):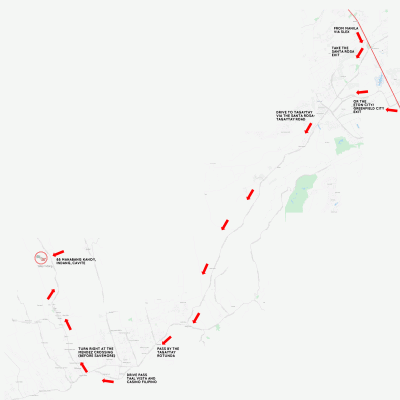 Lastly, we also have the location pinned on Bing Maps.
See you there!